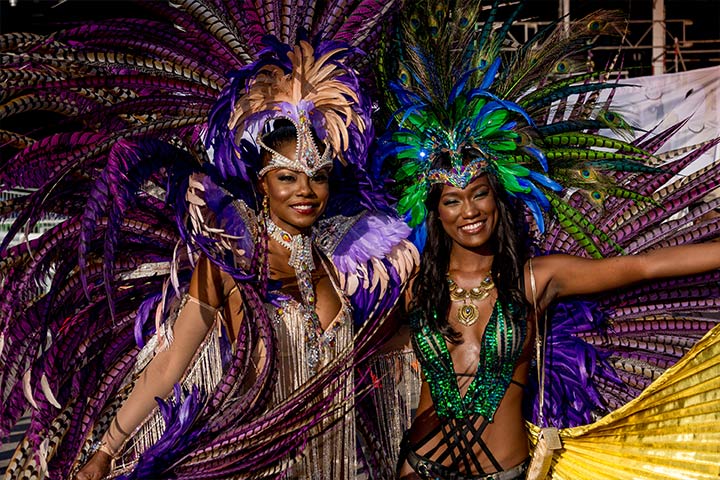 It's July and we're already a month into our major traditional festival, Crop Over, which lasts until the first Monday in August. Don't you worry though, this is when the celebration really ramps up, where you can find an abundance of fetes, cruises, concerts or competitions to attend every week; where sleep hours are halved and wukkup time is doubled!
Crop Over offers a one of a kind experience that hundreds travel from far and wide yearly, to participate in. This unique festival, while similar to Trinidad's or Brazil's Carnival, has the benefit of a deep Barbadian history that makes these few months very special.
Our beloved festival was established way back in 1687 when the country was home to more sugar cane fields than cars. The tradition began as a celebration of the harvest of the last crops of the season, thus the eventual name, Crop Over. As a combination of the West African Yam Festival and the English Harvest Home Festival, this event, originally dubbed Harvest Home, would begin with a woman dressed in white with colourful flowers tucked in her headscarf, leading the first cart of the last batch of canes. She would be closely followed by the cane workers carrying the final loads and the last cart would be carrying 'Mr. Harding', an effigy made of cane trash dressed in a pants, coat and top hat to symbolize the hard times to come until the next year's crop season started. These were also accompanied by folk characters like the Shaggy Bear, Mother Sally and Stilt Men and singing and dancing with triangles, banjos, guitars, shak-shaks and fiddles.
After the second World War, unfortunately, the festival was disbanded, but revived in 1974. Over the years the festival has evolved and grown into the world famous event we know today. So now that we've covered the history, we'll share this list with you to make sure you survive this epic festival and it doesn't get the best of you!
Rest! While it may be tempting to skip sleeping all together so you can hit all the events, lack of sleep will burn you out. Conserving your energy and pacing yourself, especially for the grand finale, Kadooment Day, is pertinent if you want to make it through the season.
Going hand in hand with rest, is hydration! It is so important to get your water in. We're a tropical country and even though we're in the middle of the rainy season, it can still get a tad steamy. Coconut water is also great for hydration. Feel free to grab a fresh one from the vendors on the side of the street.
Likewise, don't skip meals, you'll need your energy!
Comfort over style guys and girls! While your heels may look great with that outfit or your costume, it's not the wisest to wear them to all events and especially not a jump. Style some comfortable, trendy flats and sneakers for jump ups and jouverts. Your knees and back will thank you later on.
Charge your phones! How will you make your friends back home jealous if you have no selfies or videos? Document your fun times with a full battery.
Appoint the designated driver. We know you don't want to forego the ease of driving your own Drive-A-Matic car to and from all the fetes. We also know you want to have the most enjoyable time at all the parties but it's always worth assigning a designated driver, after all, drinking and driving is against the law. The parties are so high energy, you won't need a rum punch to enjoy yourself anyway!
Walk with your sunblock! As we mentioned it can get quite hot in Barbados. Don't let a sunburn from all the day parties ruin your time.
Finally, and quite importantly, while the fetes and concerts are great, be sure to check out the more cultural events, like Calypso Tents, Bridgetown Market and Arts Exhibits. While getting your party on, strike a balance and take in some of the history of this long standing festival.
When it's all over you can take a trip to visit the popular spots around the island.